Police probe second theft of thousands of bees in Tayside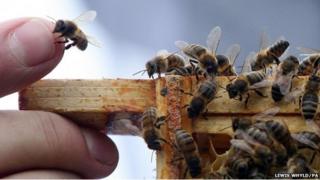 Police in Tayside are investigating after thousands of bees were stolen in the second similar theft in a month.
Three queen bees and about 45,000 worker bees were stolen along with three honeycomb frames from Craichie, near Forfar.
Six queens and their workers were stolen from a farm in Coupar Angus last week.
Police and the Scottish Beekeepers Association said the thieves would have needed "specialist knowledge".
The latest theft occurred between midnight on Saturday, 29 March, and midnight on Sunday, 20 April, in a wooded area near Craichie.
The raid in Coupar Angus, which also saw 18 honeycomb frames stolen, took place between 11:00 on Saturday, 19 April, and 12:00 the following day.
The thieves would have needed prior experience of handling bees and at least some equipment.
'Growing phenomenon'
John Coyle, East of Scotland representative of the Scottish Beekeepers Association, said each colony of bees was worth about £500.
He said: "At this time of year each colony will have about 20 pounds of honey. Even at £4 a pound, that's not very much.
"But a colony of bees at this time of year, with one queen and 95% of the rest being drones, would be worth about £500.
"Or they could have been stolen from someone who was breeding different bees - for example, some people have been breeding black bees, which are native to Scotland, which would be worth huge sums of money."
Mr Coyle added that it was possible the bees had been stolen to order, noting that thefts were a "growing phenomenon".
Each queen bee can command a colony of more than 50,000 drones, laying thousands of eggs a day during summer.