Dundee United fans raise £20,000 for final tickets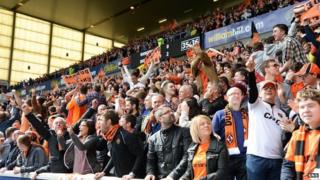 An appeal to raise funds to help cash-strapped fans attend the Scottish Cup Final has raised more than £20,000.
Dundee United charity group United for All launched the fundraising effort for the 17 May match on Thursday afternoon.
And within 12 hours the JustGiving appeal had soared over five figures, with donations from fans of other clubs including city rivals Dundee FC and final opponents St Johnstone.
The money raised so far is enough to buy almost 600 tickets for the match.
The collection was given a major boost when Dundee United announced a charitable donation of £10,000 to be shared between the tickets appeal and a skin cancer charity.
United and St Johnstone will meet at Celtic Park for the Scottish Cup Final on 17 May.
Mike Barile, secretary of United for All, said the response to the fundraising effort had been "absolutely amazing".
He said: "We set the target at a few thousand pounds to help a few families, and we've been absolutely bowled over by the generosity of people.
"It's not just United supporters, it's football fans from all over Scotland who know what it's like to go to a cup final.
"There are messages on the page from people who are donating in memory of loved ones - everyone has a story, it's incredible.
"Originally we were just trying to subsidise the shortfall between the price of a concession ticket and a full-price one, at £35, but now it looks like we'll even be able to help some poorer families with their travel expenses."
Charitable donation
Within hours of the page being set up, an anonymous donation of £1,000 was made, and the five-figure mark was broken later the same day when the Federation of Dundee United Supporters chipped in £3,000.
Fans of clubs including Dundee FC, St Johnstone, Celtic, Dunfermline and Aberdeen have all contributed.
And Dundee United made an official contribution to the fund, with a £10,000 charitable donation to be split between Untied for All and a skin cancer charity - the latter in support of United striker Jordan Moore, who is battling the disease.
Director Derek Robertson said: "The club welcome the gesture from United for All and are delighted to be associated with this appeal.
"When considering making such a charitable donation, we thought it important to also support a cause which is very pertinent to this club at present and, indeed, in the recent past.
"We will ask Jordan's parents to choose which particular skin cancer charity they prefer in due course."
Ticket sales for the match are going strong, with 26,000 sold on the first full day of sales alone.
It will be St Johnstone's first Scottish Cup final in the club's 130-year history. United lifted the trophy for the second time in 2010.