Man's jaw broken in late-night Dundee street attack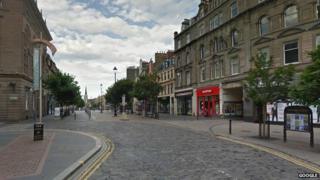 Police are investigating after a man's jaw was broken in a late-night street attack in Dundee.
The serious assault occurred at 02:30 on Sunday, 27 April, on the High Street in the city centre.
The 21-year-old victim was walking with two friends when they were approached by three men in their early 20s, and an altercation ensued.
The victim was taken to Ninewells Hospital for treatment. Officers are appealing for witnesses.
The victim, who is Afro-Caribbean, was wearing a dark jumper and burgundy jeans. One of his friends was wearing a white t-shirt and skinny blue jeans, and the other a dark top and baseball cap.
Of the three attackers, all in their early twenties, one was wearing a light-coloured top with a blue band across the chest and blue jeans.
The second man was wearing a black tracksuit, while the other was wearing a light-coloured top with blue sleeves and blue jeans.
The victim was struck in the face and fell to the ground, and was taken to hospital with a broken jaw.
Police have appealed for anyone who was in the area at the time to come forward.