Large rise in deliberate Dundee fires blamed on youths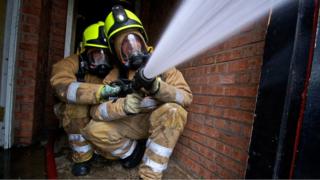 Youths have been blamed for a steep rise in deliberately started fires in Dundee last year.
The number of secondary fires - often involving rubbish or derelict property - rose from 358 from 2012/2013 to 556.
The Scottish Fire and Rescue Service said a "significant" number of incidents coincided with school holidays as well as bonfire night.
While the number of fatalities, house fires and malicious calls fell, false alarms and injuries in fires rose.
In a Scottish Fire and Rescue Service report set to go before the city council, area manager David Stapley said efforts were being made to educate youngsters about the dangers of fire-raising.
He said: "Historically Dundee has experienced a large number of such incidents.
"Analysis of the fires attended highlighted a significant number of incidents coincide with school holidays as well as the build-up to bonfire night.
"The prevention team will seek to concentrate messaging and education of young people prior to holiday periods and during the build-up to bonfire night as well as work in partnership to reduce the occurrence of deliberate fires."
There were also two recorded acts of violence towards firefighters, one of which occurred on bonfire night when a number of youths threw fireworks at crews who were attending an unauthorised fire.
The other attack stemmed from a maliciously activated alarm at the Belmont student residences in the city.
The increase of injuries in fires, from 55 in 2012/13 to 72 in 2013/14, was largely down to a change in the way injuries are recorded.
However Mr Stapley noted that a large percentage of fires involved elderly or vulnerable people, which meant first aid or help from the ambulance service was frequently needed.