Stirling salon fire death woman 'blamed ex-husband'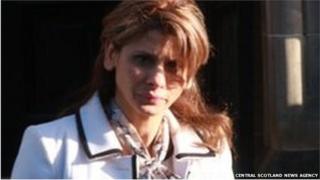 A woman suffering from extensive burns told a paramedic her ex-husband had done it because she divorced him, a murder trial has heard.
Ahdie Khayatzadeh died after suffering serious burns in a fire at Venus Hair and Beauty in Stirling on 12 October last year.
Ahmad Yazdanparast is alleged to have poured petrol or a similar flammable substance over the 46-year-old's head and body and set fire to her.
The 61-year-old denies the charge.
He has lodged a special defence maintaining he acted in self-defence, at the trial at the High Court in Edinburgh.
The court heard that paramedic Steven Morgan was called to an incident at the salon in Maxwell Place, Stirling, in October and found a female casualty lying in the road.
The 45-year-old said the woman was awake, but "extensively burned", and the decision was taken to get the patient to Forth Valley Hospital as quickly as possible.
While in the back of the ambulance, Mr Morgan asked Ms Khayatzadeh who had done this, and she responded that it was her ex-husband.
"I asked her why. She said because she had divorced him," he told the court.
An experienced firefighter told the court that the woman who was brought out alive from the basement hair salon was in a "horrendous" condition.
Advocate depute Tim Niven-Smith asked firefighter Gary Collie if he remembered saying in a statement to police that she looked like a mannequin, and he agreed.
Crew manager Mr Collie said: "Just because of the injuries she had. They were just terrible."
The prosecutor asked if he had encountered injuries like this before and he said: "Yes, many times, but never in somebody who was still alive."
The trial before judge Lady Wise continues.