Michael Voudouri bids to withdraw guilty plea in £10m VAT fraud case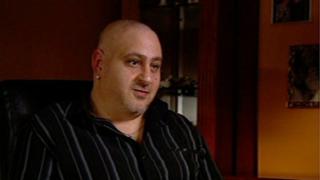 A Scottish businessman is seeking to withdraw his guilty plea to a £10.3m fraud charge.
Michael Voudouri pled guilty to being part of the VAT scam in 2012, but has spent the last two years in northern Cyprus.
The 46-year-old returned to Scotland on Thursday, and has appeared at the High Court in Edinburgh.
His solicitor said Voudouri had "serious concerns" which needed to be investigated.
Lawyers acting for the millionaire, of Bridge of Allan, told the court that he no longer accepted he was involved in a criminal scheme.
In 2012 he admitted cheating the taxman out of millions of pounds by claiming VAT on bogus transactions, moving the money out of the country into foreign bank accounts.
'Serious concerns'
He has spent the last two years residing in Turkish-controlled northern Cyrpus, but returned to the UK after Cypriot charges against him of carrying a fake passport were dropped.
During a five-minute hearing, Voudouri's advocate Derek Ogg told judge Lord Tyre that his client wanted to withdraw his guilty plea, and said he needed time to consult with him.
Lord Tyre agreed to adjourn proceedings until a hearing on 16 June, and Voudouri was taken back into custody.
Speaking after the hearing, his solicitor Aamer Anwar said his client felt he had problems with the Scottish justice system.
He added: "He has instructed us to withdraw his guilty plea. Mr Voudouri also has serious concerns which need to be investigated.
"These need to be looked at in advance of his next appearance in court on 16 June."