Veterans and Red Arrows for Stirling Armed Forces Day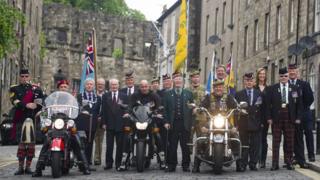 A parade of 1,200 military veterans will help launch Armed Forces Day in Stirling.
The city will lead celebrations by veterans and serving military personnel across the country on Saturday, 28 June.
Displays by the Red Arrows aerobatic stunt team, the Red Devils parachute regiment and the Royal Marine Band are all on the Stirling programme.
The event is expected to generate around £1m in the local economy.
The celebrations will be opened by the parade of veterans young and old, dozens of whom will form a motorcycle cavalcade through the city.
The parade will wind its way from Stirling Castle through the Old Town, with cadets and veterans joining at the Albert Halls before making their way to the events ground at the Royal Parklands.
A Typhoon flight simulator, a Veteran's Village and a collection of 26 vintage military vehicles, including a 1960s Saracen armoured personnel carrier and a World War Two Matchless motorbike will be on show there.
'Fabulous spectacle'
The event will include a flypast by the Red Arrows stunt team, as part of their 50th display season which sees them putting on 85 shows in nine countries, as well as displays by other military groups.
Veterans Scotland executive chairman Martin Gibson said the parade would be a "fabulous spectacle".
He said: "We are extremely proud that about 1,200 veterans of all ages from each of the three services and from every part of the UK will be marching in the parade.
"We're really looking forward to welcoming the public to see the Veterans' Village and the vintage military vehicles - which will be some of the big attractions of this really great family day out."
Stirling's Provost Mike Robbins added: "The enthusiasm among veterans for this event has been incredible and it will be fantastic to see so many of them marching through Stirling.
"The motorbike riders, the vintage vehicles and the presence of so many people who have served our country in so many ways will be fantastic."