Man jailed for attacking shopkeeper with knife and pipe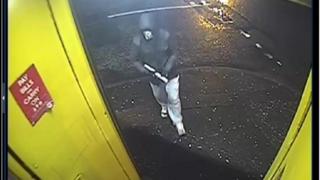 A man who attacked a shopkeeper with a knife and a length of pipe has been handed a six-year sentence.
Gavin Liddell will serve four years and four months in prison and two years out on license after admitting the attack at the Best One Foodstore in Dundee in February.
He was wearing an electronic tag when he inflicted potentially life-threatening injuries on Mohamed Safdar.
The 33-year-old admitted the crime at the High Court in Livingston.
Liddell, who was high on drugs at the time of the attack on 1 February, has a string of previous convictions for assault, robbery and firearms offences.
He was on early release from prison when he was caught on CCTV entering the licensed grocers with his face partially masked, before attacking Mr Safdar with a knife and a length of pipe.
Severe injuries
The court heard that Mr Safdar could have bled to death from his severe injuries, but despite his wounds he was able to bundle Liddell out into the street.
A passer-by found the victim sitting surrounded by a pool of his own blood, and ripped open a pack of toilet rolls to stem the flow of blood from the shopkeeper's neck.
The 50-year-old had emergency treatment for his wounds, which damaged major blood vessels, and spent six nights at Dundee's Ninewells Hospital.
Police called to the shop were told that the raider had escaped on a bike, which Liddell later abandoned before getting a taxi home, explaining the blood on his hands and clothes by saying someone had tried to "batter" him.
When eventually traced to his flat at Ancrum Court, officers found clothing in Liddell's washing machine stained with blood that matched Mr Safdar's.
'Genuinely horrified'
Liddell pleaded guilty to assault and attempted robbery.
His defence agent Jim Laverty told the court his client remember nothing about the attack and had expressed genuine remorse for his actions.
He added: "He appears to be genuinely horrified at the level of violence which was perpetrated in this particular case and he's well aware that a lengthy custodial sentence is inevitable."
Passing sentence, Judge Lord Kinclaven told Liddell he had accepted responsibility for committing "an offence of the utmost seriousness".
He added: "I'm satisfied the appropriate course is to impose an extended sentence because of the gravity of your offending and to provide some form of protection for the public."