Hillwalker rescued from Glen Doll by helicopter dies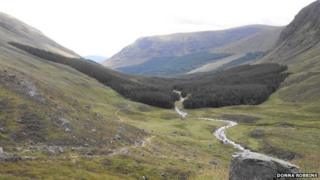 A walker who was rescued by a Royal Navy helicopter after collapsing on an Angus hillside has died.
The German tourist was walking on Glen Doll in rural Angus with his wife when he collapsed and hit his head.
A Sea King helicopter from Prestwick was dispatched to the scene in the southern Cairngorms on 11 June and flew the casualty to Ninewells Hospital in Dundee.
However, police have confirmed that the man has since died.
The Royal Navy search and rescue helicopter from HMS Gannett had to be used in the operation.
There had been nowhere for the civilian air ambulance to land amid the rough terrain at the foot of Dreish, where the man fell.