Tax fugitive Michael Voudouri jailed for 11 years over £11.6m scam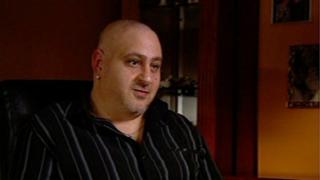 A tax fugitive who fled Scotland after admitting a £11.6m money laundering scheme has been jailed for more than 11 years.
Michael Voudouri was sentenced to 10 years for money laundering, and a further 18 months for failing to appear for sentencing in November 2012.
The 46-year-old admitted the VAT scam in 2012, but fled to Cyprus.
His solicitor said he had "serious concerns" about the case when he returned to Scotland in May.
Voudouri, of Bridge of Allan, has spent the last two years residing in Turkish-controlled northern Cyprus, but returned to the UK after Cypriot charges against him of carrying a fake passport were dropped.
In 2012 he admitted cheating the taxman out of millions of pounds by claiming VAT on bogus transactions in what judges described as a "complex money laundering operation", moving the money out of the country into foreign bank accounts.
'Serious offence'
He set up companies in the US and the British Virgin Islands to conceal the funds, before funnelling them back to Scotland to buy a house and fund a designer clothes business in Stirling.
Sentencing, Lord Tyre told Voudouri his decision to flee the country was "clearly pre-meditated to avoid punishment".
He said: "In my view the offences which you committed fall towards the upper end of the scale of seriousness, both in relation to the very large sums involved and in relation to the complexity and sophistication of the laundering arrangements which you were responsible for directing, along with others.
"Your decision to abscond to northern Cyprus caused a great deal of trouble and expense in first of all attempting to trace your whereabouts and, subsequently, having you brought back to this jurisdiction.
"I regard this, too, as a serious offence. "
Voudouri - who was previously jailed for four years for a similar VAT scam in 2004 - was sentenced to a total of 11 and a half years in prison during the hearing at the High Court in Edinburgh.
'Global scale'
The Crown Office said the investigation into Voudouri's money-laundering was on a global scale.
Lindsey Miller, procurator fiscal for organised crime and counter terrorism, said: "After an extremely complex investigation, today we have seen justice delivered to an individual who participated in money laundering on an industrial scale and who has gone to great lengths to escape the Scottish authorities.
"The criminal investigation into Voudouri's money-laundering was on a global scale, with the Crown's economic crime unit gathering evidence from companies and financial institutions in the UK, Greece, Cyprus, Switzerland, the United States and the British Virgin Islands."
Speaking on his client's behalf outside court, solicitor Aamer Anwar raised questions about the actions of HMRC in the case.
He said Mr Voudouri had instructed him to raise an appeal against his conviction.