Watchdog clears police over woman's cell door injury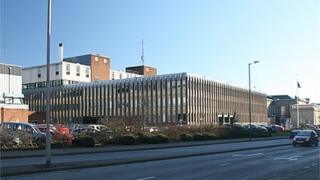 Police "acted professionally" during an incident where a woman was seriously injured in her cell in Dundee, a watchdog has ruled.
The woman had to have part of her finger amputated after it was jammed in a cell door during on 26 April.
The Police Investigations and Review Commissioner was brought in to investigate the incident.
The watchdog ruled that the 39-year-old's injury was a result of her charging at officers at the cell door.
During the Saturday night incident at Police Scotland's Tayside division headquarters on Bell Street, the little finger on the woman's right hand was "almost severed" when it became jammed in the cell door at about 22:30.
She had to be taken to Ninewells Hospital in the city for the "serious" injury, resulting in part of the finger being amputated.
PIRC was called in, and investigators interviewed officers, police staff and civilian witnesses, including the injured woman, reviewed CCTV logs and Scottish Ambulance Service records.
In his report, Professor John McNeill said the "overriding cause of her injury was as a result of her actions in charging towards the cell door and police officers".
He added: "I am satisfied that the police officers and members of police staff behaved in a professional manner and their actions were proportionate and justified.
"I have however recommended that Police Scotland considers providing appropriate officer safety training to police custody and security officers who are engaged in prisoner handling at Dundee custody suite to ensure this complies with Police Scotland procedure."