Investigation after cat shot with airgun in Falkirk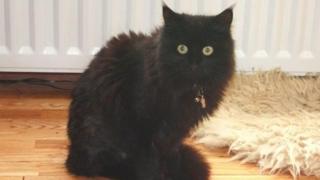 An investigation was launched after a cat was shot with an airgun in Falkirk.
Baillie, a one-year-old black male cat, returned home injured to Windsor Gardens in the town on 3 July.
A pellet had travelled through the cat's body, bruising his kidney, before lodging in his right thigh.
Police and the Scottish SPCA have appealed for information about the "malicious act". The attack is the fourth in the area in recent months.
Two cats were injured after being shot in the head in June, while at the end of April a cat died from its injuries after being targeted.
SSPCA Ch Supt Mike Flynn said: "It is hugely concerning that there has been yet another airgun attack in Scotland.
"Baillie is very lucky to have escaped from this incident relatively unscathed and we are extremely keen to identify the person responsible for carrying out this malicious act.
"Anyone who thinks it's acceptable to use an airgun in this way should not be in possession of such a dangerous weapon."
He also welcomed government plans to introduce an airgun licensing scheme, which he said could "help prevent horrific attacks on defenceless animals".