Knife raid on Dundee electronic games store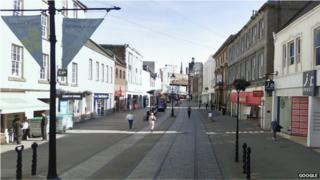 Police have issued an appeal for information after a raid on a shop at Dundee's Murraygate.
Two men stole items from Game at about 18:00 on Thursday and one of them threatened staff with a knife.
One of the men is described as being in his 40s, creased face, short greyish hair wearing a white t-shirt with a design pattern on the front and over knee length shorts on.
He was in possession of a white sturdy plastic bag with a logo.
The other man is described as being late 20s, closely shaven dark hair, large nose, dark baggy jacket, dark jacket, in possession of a large blue Tesco "bag for life" style bag.