Plea to government over T in the Park Strathallan move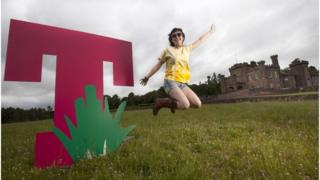 A couple who live in the grounds of the new venue for the T in the Park music festival have called for the Scottish government to review the planned move.
The festival has just completed its final year at Balado, near Kinross.
Tickets have now gone on sale for next summer's event in the grounds of Strathallan Castle, near Auchterarder, in Perthshire.
Kim and Mark Liddiard said they were prepared to take the matter to the Court of Session for a judicial review.
The couple, who would have a campsite on their doorstep throughout the festival, have written to the Scottish government's planning and architecture division.
Protected wildlife
They have asked ministers to review the case and potentially carry out an environmental impact assessment, which the local council deemed was not needed.
Perth and Kinross council is yet to issue a licence for the event, but planning permission does not need to be applied for unless the event is on site for more than 28 days.
In their letter, the Liddiards point out that the council has acknowledged the event could take up to eight weeks to set up and de-commission before and after the festival.
They are also concerned about access to the site, which is more than three miles off the A9 on single-track roads, compared to the current Kinross-shire venue which lies just off the M90 motorway.
They also cite the proximity of protected wildlife around the Machany Water - including ospreys, which would be in breeding season during the festival - and note that a number of local residences rely on a private water supply emanating from the estate.
'Building relationships'
Colin Rodger, head of event management at DF Concerts, said the response from the community had been "generally very positive".
"Strathallan is a fantastic venue and we're looking forward to going in and building relationships with the community," he said.
"We've engaged with people who live close to the site and we've still got a lot of engagement to do.
"When we got to Balado people were a bit concerned and a bit worried about things, but we managed to convince everybody that we know how to make this relationship work, and we'll do that again.
"We had a lot of the community down over the weekend, they came down and saw the event and they went away very positive about what we do."