Perfect inspection marks for Falkirk Community Hospital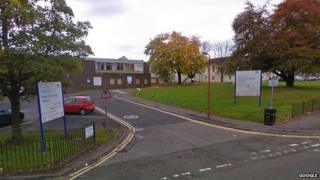 A small community hospital in Falkirk has become the first in Scotland to get a perfect score from hygiene inspectors.
Falkirk Community Hospital was issued with no "requirements" or "recommendations" by the Healthcare Environment Inspectorate.
It is the first hospital to get a clean bill of health on its first inspection.
Inspectors visited the community hospital, which has four wards and 96 beds, in May.
The facility offers rehabilitation, palliative care and care for the elderly, as well as outpatient services.
The inspection team found a range of measures in place to minimise the risk of infection to patients, visitors and staff.
Senior staff knew their responsibilities and all wards were clean and well maintained - and inspectors described hand hygiene as "excellent".
'Exemplary inspection'
The HEI's chief inspector, Susan Brimelow, said: "This was an exemplary inspection and I am delighted with the findings.
"Patients highly commended the standard of cleanliness within the hospital.
"The high standards found during this inspection must be maintained and are an example of the healthcare associated infection standards every patient in every hospital has the right to expect."
Falkirk Community Hospital opened in 2010 as part of a reorganisation of healthcare in Forth Valley.
Jane Grant, NHS Forth Valley's chief executive, said she was "delighted" with the report.
"The report reflects the hard work carried out by staff over the last year to improve the inpatient wards and create a safe, clean and pleasant environment for patients, staff and visitors," she added.
"Whilst we welcome this report, we recognise there is no room for complacency and work will continue to ensure we maintain consistently high standards in all hospitals across Forth Valley."