Graham's Dairy takes over Mitchells' milk deliveries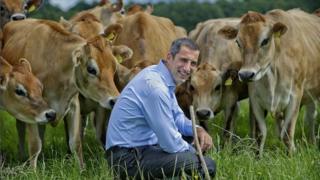 A Stirlingshire milk company has taken over the delivery business of a major Aberdeenshire firm.
Mitchells Dairy of Inverurie has transferred its delivery business to Bridge of Allan firm Graham's The Family Dairy.
All 21 Mitchells milk retail staff will transfer to Graham's, which will manage distribution to shops, restaurants and homes across the North East.
The Aberdeenshire company is to focus on other areas of its retail business.
Both companies have long farming traditions. Graham's, which announced expansion plans earlier this year after securing £20m of funding, first started delivering milk by horse and cart in 1939.
The business is now celebrating its 75th anniversary, and chairman Robert Graham said he was "very pleased" with the chance to take the Mitchells distribution business "to the next level".
'Smooth transition'
He said: "As a fellow family business in the dairy sector, our priority is looking after our customers, staff and our farmers and we're looking forward to building on the Mitchells high standard of customer service and extending consumer choice."
Mitchells was established in 1928 in a small grocer's shop in Inverurie by Elijah and Agnes Mitchell, and is now run by grandson Patrick Mitchell alongside his daughter and son-in-law Judy and Keith Whyte.
Mrs Whyte said she was "delighted" to be handing over the delivery business as a going concern to Graham's.
She said: "Operating at the scale Mitchells has over recent years has been tough, competing with low prices in the multiples and we are pleased to be able to hand over in a smooth transition to Graham's who are far better placed to progress the business we have built."
Mitchells will now focus on developing other parts of its business, in particular its dairy shop and tearoom in Inverurie.