National park path upgrade work in line for £3m grant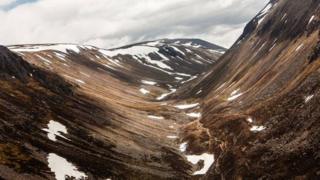 More than 120km of paths across Scotland's national parks are set to be renovated thanks to a £3m grant from the Heritage Lottery Fund.
Eroded pathways in the Cairngorms and Loch Lomond and the Trossachs are to be restored and upgraded as part of the People and the Mountains project.
The Heritage Lottery Fund has announced initial support for a grant of £3.28m.
A total of 41 paths have been identified as being at risk of erosion due to rainfall and heavy use.
Both national park authorities are part of the project, alongside groups including the Cairngorms Outdoor Access Trust.
The partnership works with volunteer groups and schools to restore the pathways, and Colin McLean, head of the Heritage Lottery Fund, said it offered vital training to young people.
He said: "Nature lies at the very heart of what makes Scotland special and its beauty attracts and ever-growing number of walkers, climbers and tourists each year.
"Although this is a significant boon to our tourist economy, we need to ensure that it doesn't damage the special environment that so many have come to enjoy.
"Our natural heritage offers a rich resource for skills and education so HLF is delighted that this project will offer training to many young people.
"Their newly-learned skills will not only make a positive difference to their own lives but will play an important part in looking after the future of Scotland's magnificent landscapes."
Dougie Baird, chief executive of the Cairngorms Outdoor Access Trust, said the first-round approval for the grant was "fantastic news".
The Cairngorms National Park, which covers an area of 4,528 sq km, includes five of the UK's highest mountains and attracts 1.4m visitors every year. It is also home to a quarter of Britain's threatened species.
Loch Lomond and the Trossachs National Park meanwhile welcomes 3.5m visitors annually, and its habitats support endangered species including golden eagles, peregrine falcons and mountain ringlet butterflies across eight special conservation areas.