Scientist Nathan Bailey admits blame for M9 death crash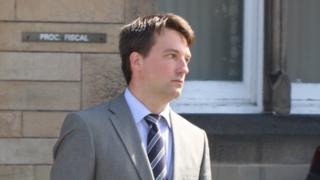 A leading scientist has admitted causing a car crash which led to the death of an elderly man heading home from his wedding anniversary.
St Andrews University academic Nathan Bailey, 34, was driving on the M9 near Stirling last April when he lost control and hit a car being driven by 83-year-old Ronald Highcock.
Mr Highcock died weeks later in Forth Valley Royal Hospital.
Bailey will be sentenced for causing death by careless driving next month.
The American citizen, now living in Dundee, was approaching junction 10 southbound on the road on 28 April last year when the crash happened.
His Renault Clio hit the side of Mr Highcock's Citroen Saxo, which he was travelling in with his wife, causing both cars to career down an embankment.
Mr Highcock's car smashed head-on into a tree, and fire crews had to cut him and his wife out of the vehicle.
'Sudden bang'
He managed to give a statement to police at Forth Valley Royal Hospital before he died, succumbing to chest injuries sustained in the crash and a secondary cause of heart disease on 20 May.
The couple had been heading back to Prestwick from the Dunblane Hydro after celebrating their anniversary.
"We were travelling slowly, about 40-45 miles per hour, then I felt I was being forced by something in the overtaking lane," he said.
"I felt I was going sideways and went down the embankment and hit a tree and a fence."
His wife, 79, who was also severely injured in the crash, told Stirling Sheriff Court she remembered "a sudden bang".
One witness heading northbound said she could see Bailey driving and "got the impression he was struggling with the steering" before hitting the other car during an overtaking manoeuvre.
'Momentary lapse'
Police investigators found no evidence of any defects on Bailey's vehicle.
Bailey's lawyer Gavin Anderson said the tragic accident had been caused by a "momentary lapse of concentration" on his client's part, which had "devastated" him and caused post-traumatic stress.
He submitted four letters of reference to the court from St Andrews University academics, where Bailey is a research fellow in the School of Biology.
One, from university principal Dr Louise Richardson, said Bailey was an "extremely accomplished scientist" who appeared to be "devastated" by the accident and "filled with remorse".
Another, from Professor Mike Ritchie, said: "Nathan is one of the leading researchers in the world in his area of expertise".
Bailey will be sentenced on 16 September after reports have been compiled.