Warning after Perth rubbish fire spreads into flat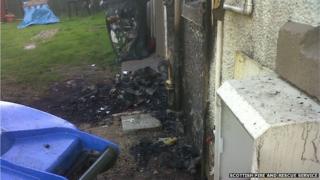 Firefighters have warned of the dangers of letting rubbish pile up after a bin fire spread into a flat in Perth.
Flames penetrated the ground-floor flat on Stanley Crescent after spreading through bins and rubbish stacked outside the building.
Fire crews wearing breathing apparatus were called in to tackle the fire at 20:51 on Saturday.
Crew manager Lewis Duncan said the incident highlighted the danger of letting combustible materials pile up.
"If items are left near doors then escape routes can be blocked," he said.
"Should a fire start accidentally or be started deliberately the chances of extensive damage being caused are increased.
"There is no doubt that the fire escalated due to the fact that combustible materials had been stored to the rear of the block.
"This fire had the potential to be even more serious given the amount of combustible material there was against the building."