'No risk' from leak at Grangemouth industrial complex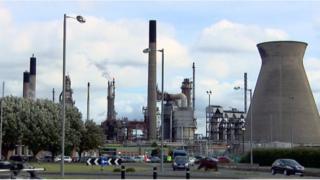 Emergency services were called after a gas leak at the Grangemouth industrial complex.
Roads were closed around the Ineos site on Bo'ness Road as the police and fire services responded to reports of a leak of butane gas at about 10:45.
An Ineos spokesman confirmed the on-site incident management team was mobilised in response to the leak.
No-one was injured and a police spokesman said there was no wider risk to people living nearby.
Hundreds of staff and pupils at nearby schools were advised to stay indoors as a precaution during the incident.
Road closures were removed by 12:00.