Ground works under way for A9 dual carriageway scheme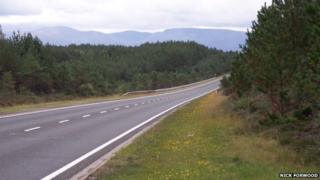 Work has started at two sections of the A9 between Perth and Inverness to prepare for conversion to a dual carriageway.
Transport Scotland has warned of restrictions at the stretches between Birnam and the Tay Crossing, at the Perthshire end of the route.
Work is also taking place at the Kincraig to Dalraddy stretch in the Highlands.
The full length of the road is being dualled at a cost of £3bn.
The investigation work at Kincraig is a continuation of work started in the summer, and will take around two weeks.
However the work between Birnam and Tay Crossing, considered one of the most challenging parts of the route, will run for about 15 weeks until January 2015.
Temporary traffic signals will be in place at contra-flow sections on both sections of the route.
A Transport Scotland spokesman apologised for any inconvenience caused by the work and said it will be monitored carefully to keep delays to a minimum.
It is hoped building work will be ready to start in 2017, with 80 miles of dual carriageway laid by 2022 and the full project completed by 2025.