Bannockburn visitor centre welcomes 50,000th visitor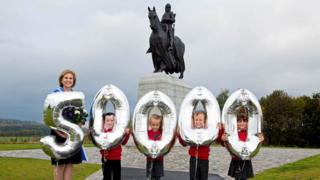 The Battle of Bannockburn Centre has welcomed its 50,000th visitor since opening earlier this year.
Lynn Forney Young, from Texas, was crowned the landmark visitor to the site, which opened in March.
This year's visitor numbers have already dwarfed those of the battlefield's old heritage centre, which averaged 25,000 guests a year.
The centre was established to mark the 700th anniversary of the historic battle.
Ms Young was visiting as part of a tour group with Daughters of the American Revolution, an American history and heritage group based in Washington DC which she serves as president general.
She said: "We are visiting Scotland this year to honour the connections between American and Scottish history and heritage.
"Bannockburn is an important part of our tour. Our group, which represents 100 people from 33 different US states, have descendants from both sides of the battle, including direct descendants of King Robert the Bruce."
The old Bannockburn Heritage Centre dated back to the 1960s and was demolished in 2012 to make way for the new facility, which received £5m of government funding and £4.1m from the Heritage Lottery Fund.
It features interactive exhibits using 3D technology to recreate the 1314 battle, where the armies of Robert the Bruce defeated the forces of Edward II.
The battle was re-enacted by hundreds of actors this summer at the Bannockburn Live event, celebrating 700 years on from the two-day conflict.
Scott McMaster, property manager at the centre, said: "I have seen the new visitor centre grow from concept to completion and I am proud to say it is like no other experience in the world.
"We are leading the way for future heritage attractions worldwide.
"The 50,000th visitor is a good sign that the public and well-respected groups and societies both locally and internationally recognise that our site is world-class and definitely worth a visit."