Troop of Gibraltar macaques arrives at Blair Drummond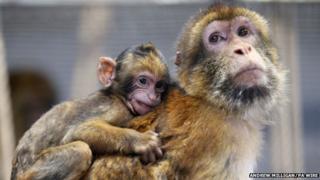 A troop of 30 monkeys from Gibraltar has arrived at their new home a Scottish safari park.
The mischievous macaques were moved to Blair Drummond Safari Park near Stirling following a deal to reduce the territory's monkey population.
A rise in wild monkey numbers has been causing problems for Gibraltarians.
The Barbary macaques, aged between six months and 20, were flown to Gatwick Airport before completing their journey by land.
They will be on show to visitors to a new drive-through section of the park from next March.
Animal collection manager Sheila Walker said: "It has taken over a year of planning and organising the transfer of these macaques and we cannot believe it's finally happening.
"We are all very excited about having a new species in the park and another exhibit for our visitors."
The move is thought to be the first large-scale export of macaques since 1990.
'Causing problems'
The group of monkeys, known as the "Middle Hill Troop", lived between the top of Gibraltar rock and the town.
Craig Holmes, head of the new macaque section at Blair Drummond, said they had been causing trouble for Gibraltar residents.
He said: "They had been moving down into the town and they're not stupid, they're clever, they know that there's food down there. People leave bins out and tourists feed them as well.
"They were just working their way down and they were causing problems for the local people, making a mess in their gardens, ripping open their bags to get to the food.
"So they're reducing the numbers to try and slowly move them out of the town and encourage them back up on to Gibraltar rock."