Police investigate spate of Bridge of Allan break-ins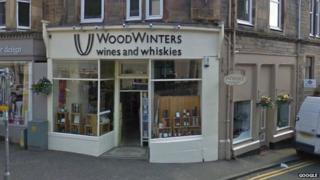 Police believe a spate of housebreakings at commercial and residential properties in Bridge of Allan are linked.
Two hairdressers, an off-license and a flat were broken into and property taken between 15 and 20 October.
Officers believe a man seen taking alcohol from WoodWinters Wines and Whiskies on Henderson Street could be behind all four crimes.
Police also think the thefts of a quad bike and a trailer could be linked.
The first break-in occurred sometime between 15 and 16 October, when the front window of Ahead Hairdressing on New Street was smashed and property stolen from inside.
Then, at 20:30 on Saturday, 18 October, a man was seen breaking into WoodWinters Wines and Whiskies and taking two bottles of alcohol.
He was described as being between 20 and 40 years old, about 5ft 6in tall, of average build, and was wearing a dark jacket or hoodie and dark bottoms with stripes down the sides. He was carrying a black rucksack.
Instruments stolen
Two further break-ins were reported between Saturday and Monday, with flat on Henderson Street targeted as well as Capelli Hairdressers on Fountain Road.
Two large woodwind instruments, an oboe and a cor anglais, were stolen from the flat along with a set of binoculars and a quantity of DVDs.
Insp James Young said: "We suspect that the same person has been involved in all these incidents as they are similar, and we don't usually see this level of crime in such a short period of time in the village."
Police are also investigating two further thefts from properties on Pendreich Road in the village.
Between 14 and 17 October, a 12ft by 6ft double axel Ifor Williams trailer was stolen from a property, while between the same dates a red Honda 500FE quad bike was stolen from a nearby farm.
Insp Young said: "I suspect that the trailer and quad bike have been stolen at the same time, and the culprit would have required a vehicle large enough, with a tow bar.
"I urge owners to make it difficult for potential criminals by blocking bikes in when not being used."