Frank de Gernier jailed for violent attacks on girlfriends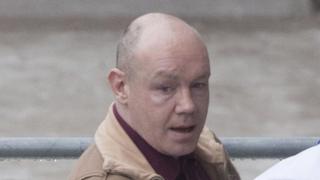 A man who violently attacked a string of women over a decade has been jailed for more than four years.
Frank de Gernier, 39, admitted carrying out the attacks on his girlfriends at addresses in Dundee.
Dundee Sheriff Court heard that one partner described the beatings she suffered as being as bad as a car accident.
In one attack, de Gernier made her vomit, before grabbing her and rubbing her face in it as she wept.
Other women told police how he punched them full force in the face "for no reason" before dragging them through their homes by their hair.
Stamped on body
Fiscal depute Vicky Bell told the court that de Gernier targeted his first victim, Wendy Graham, in the summer of 2001 after she moved into the flat above him with her two daughters.
She said: "They began a relationship and some three to four weeks into that he started to hit Miss Graham, described by her as beatings which included full force slaps and thumps, all for no apparent reason."
In November he attacked her in his hallway, punching her full force in the face. After she fell to the ground he repeatedly punched and kicked her in the face, head and body.
He then dragged her around the hallway by her hair and when she tried to get up stamped on her body repeatedly.
Ms Bell said de Gernier was "full of aggression" and was verbally abusing his victim, who was left with two black eyes and bruises all over her body.
"She had been in a car accident previously and said she felt in as much pain after this assault as she did in the car accident," she added.
Face in vomit
Ms Bell said that on another occasion de Gernier stamped on Ms Graham's hand until she was sure it was broken.
"He then kicked her full force in the stomach which caused her to vomit on his living room carpet, " she added.
"As she was being sick he grabbed her by the hair and rubbed her face in her own vomit so forcefully that she sustained friction burns."
The court heard that De Gernier then sat back down and made Ms Graham clean up the vomit as blood dripped from her mouth.
He then sat drinking alcohol and repeatedly spat on her face, hair and clothes.
The court also heard that during a further assault, de Gernier brutally beat Miss Graham as she lay in the foetal position soaked in her own urine.
She eventually managed to get away from him with the help of her mother, Barnardos and Women's Aid.
Children threat
De Gernier attacked Louise Douglas, in 2004. During one incident he pulled the handbrake on as she was driving, before grabbing her by the throat and pushing her face against the car window.
He later launched a two-hour assault on her in which he punched and pushed her and pinned her against a wall.
De Gernier became violent with Shona Murray when she tried to break off their relationship in January 2007 - on one occasion repeatedly slapping her while telling her she would "never see her children again" and threatening to "cut her up and put her into bin bags".
He then picked up a crowbar and held it against her neck.
For eight weeks he repeatedly turned up at her house and "threatened to come and get her in her sleep".
Helena Milne, who started seeing de Gernier in 2009, suffered perforated ear drums and black eyes during one beating.
In another she was dragged through her house by her hair while de Gernier branded her a "fat cow who was lazy and selfish".
'Dangerous attitudes'
Lynne Rudkin was brutally beaten after de Gernier quizzed her about a photo on Facebook - punching her in the face and dragging her by the hair before repeatedly punching her face.
De Gernier was caught after Ms Milne reported the incidents to the police.
Police later labelled him as a "high tariff domestic abuse offender".
De Gernier, a prisoner at HMP Perth, pleaded guilty to five charges of assault to injury.
Defence advocate Maryam Labaki said: "He has a chequered and longstanding problem with alcohol.
"He had an unhappy childhood and from a very early age witnessed violence in his family home."
Sheriff George Way jailed de Gernier for four years and two months, and imposed a two-year extended sentence to be served in the community upon his release from jail.
He said: "You have difficult and frankly dangerous attitudes towards women.
"You have severe trust issues and misinterpret what is happening."