Dundee Cake protection bid launched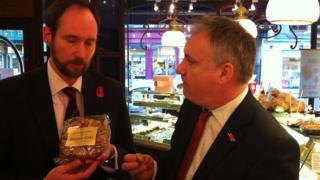 An official bid to win European protected status for Dundee Cake has been launched.
A national consultation is now under way to consider whether the fruit and nut cake should only be produced in the city that bears its name.
The 12-week consultation is the first step in the European Union's Protected Food Names scheme.
Other Scottish foods including Scotch Beef and Stornoway Black Pudding already hold protected name status.
The application lays out the exact raw materials and volumes that must be used to make the cake, and specifies that it must be mixed, baked and decorated with almonds in the Dundee area in order to bear the name.
The recipe for the cake, famously decorated with whole blanched almonds, is well-known around the world but an early version can be traced back to a kitchen in Dundee in the 1700s.
'Thoroughly Dundonian'
Scottish Food Secretary Richard Lochhead visited a Dundee bakery to launch the consultation.
He said: "Dundee is famous as a city of discoveries and we want the world to discover delicious, authentic Dundee Cake.
"We can trace its origins back hundreds of years to the kitchens of the marmalade inventor Janet Keiller, making it a thoroughly Dundonian delicacy which deserves European recognition for its unique characteristics and long associations with this city."
Martin Goodfellow of local bakers Goodfellow and Steven said it was "time we took back what is our own".
He said: "Dundee Cake has become so far removed from its roots that it has almost become a catch all term for any fruit cake with peel and almonds in it.
"That is not the origin of the cake, nor is it the way it has been made in the city for over one hundred years.
"We have had fantastic support from both Dundee City Council and the Scottish Government and have built up a strong case for consideration."