Student wins Dundee university scholarship in Ghana radio contest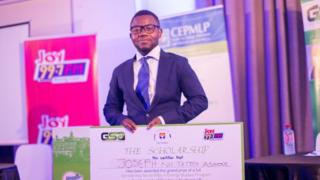 A Ghanaian man has won a scholarship to the University of Dundee after triumphing in a radio competition styled on The Apprentice.
Joseph Nii Tettey Ashong came out on top in The Scholarship, a six-week educational competition broadcast across West Africa.
The £30,000 prize includes a return ticket to Scotland, a full postgraduate course and rent and living expenses.
Mr Ashong will take up his place at the university in January.
The competition was broadcast live in a prime-time slot on Joy FM, and saw eight contestants take part in quizzes, aptitude tests and debates ahead of weekly "evictions".
The first episode of the contest saw contestants deliver a presentation on whether the International Monetary Fund bailout of 2009 was the right decision in tackling the country's economic crisis.
The competition was run by Accra-based radio station Joy FM and educational consultancy firm Go Study Abroad (GSA).
Mr Ashong took on Charles Senya and Priscilla Dzeidzorm Ayebi in the final, which featured four rounds of questioning on general knowledge, energy and a brain teaser.
His prize is a year-long postgraduate energy studies-related course in Dundee.
He said: "I feel like I'm dreaming. I never imagined an opportunity like this.
"I know what a scholarship to study at the University of Dundee would mean to me and my community and I am grateful to God and GSA for giving me this opportunity.
"Ghana should watch out for me, I will be the best at everything I do."