T in the Park public meetings held on Strathallan move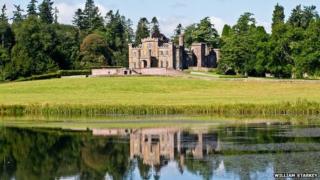 Local consultations are being held over the proposal to move the T in the Park festival to Strathallan Castle.
The first of two public meetings is being held at Auchterarder Community Centre, with another to follow at Strathearn Community Campus.
Festival organisers DF Concerts have drawn up documents including a proposed traffic management plan and site map.
A full planning application is to be submitted to Perth and Kinross Council.
Leaflets were delivered to thousands of homes in the area to advertise the meetings, while DF Concerts CEO Geoff Ellis has met councillors to outline plans for the festival.
Meetings have also been held with representatives from community councils.
The festival is seeking a new permanent home after concerns were raised about an oil pipeline running under the Balado site which hosted it for 17 years.
An Environmental Impact Assessment must be carried out as part of the application, and DF Concerts has completed a scoping report on the matter.
After deciding to move on Balado, the group examined more than 100 potential sites from the north of England through central Scotland before settling on the grounds of Strathallan Castle.
The site contains watercourses which drain into the River Earn and on to the River Tay, a designated conservation area for Atlantic salmon, as well as habitat suitable for osprey nesting.
The scoping report admits that "the festival is likely to result in a significant adverse effect on osprey".
The festival draws around 85,000 visitors, along with 7,500 staff, and is estimated to contribute £2.7m to the local economy and more than £15m to the Scottish economy each year.
A full planning application including the Environmental Impact Assessment will be submitted to Perth and Kinross Council in due course.
The festival is scheduled to run from Thursday 9 through to Monday 13 July, 2015.