Plan to re-open Glendevon Quarry rejected by council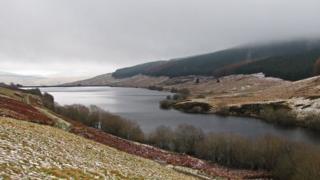 A proposal to re-open a gravel quarry in the Ochil hills has been refused by Perth and Kinross Council.
An application was lodged for work at Glendevon Quarry to run until 2035.
The plan had drawn opposition from a number of community councils and neighbouring local authority Clackmannanshire Council, along with 108 letters of objection from locals.
The proposal had been recommended for approval by council officers, but was rejected by councillors.
No actual extraction has ever been carried out at the site at Glenquey, despite permission being given for work in 1964 and again in 1986.
About 10,000 tonnes of material were removed to prepare the site in 1991, but the 20-year working period agreed expired in 2011.
The site's owners, Cemex UK, said 3.5m tonnes of sand and gravel could be removed from the site, across an area spanning 22 hectares, over the development period.
'Real concerns'
Council officers recommended the application to allow extraction until 2035 be approved on the grounds that "the principle of the quarry development on this site is established".
However, more than 100 residents and local community bodies objected, complaining of potential road safety issues, impact on natural habitats and biodiversity, pollution, and the scale of the development.
Clackmannanshire Council raised concerns about the impact of increased HGV traffic on the A823 road, and of tourism in a popular walking area being affected.
Local MSP Liz Smith said "good sense had prevailed" when councillors on the development management committee decided to reject the proposal.
She added: "It was clear from the outset that the vast majority of local people were against the quarry at Glenquey, with real concerns over the potential environmental impact and road safety concerns."