Stirling Council sets up small business investment fund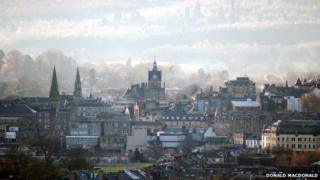 Stirling Council has set up a new £500,000 investment fund aimed supporting small local businesses.
The Stirling Business Investment Fund was formed with money raised by the winding up of several "redundant" arms-length companies owned by the authority.
The fund will give out loans of up to £25,000 to eligible small businesses.
Council bosses hope the scheme will help establish new businesses as well as boosting existing ones.
The fund will be administered by Stirling Enterprise, which will assess all loan applications on behalf of the council.
Council leader Johanna Boyd said she was "delighted" to "directly support the local business community in Stirling".
She added: "We already have a vibrant business community and we look forward to engaging further with them through this new initiative.
Finance and economy convener Neil Benny said: "This is the biggest innovation in council support for local businesses in decades, and I'm very excited about what it could help achieve.
"Funds will be available to improve competitive advantage, help with development and growth and enhance or develop new income streams."