Plean post office armed robber 'dropped most of stolen cash'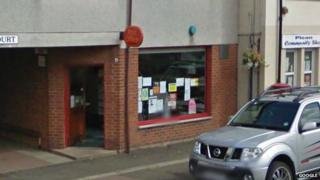 Police are searching for an armed robber who stole cash from a Stirlingshire post office - before dropping most of it as he escaped.
The man grabbed the cash after a member of staff at the Plean branch opened the counter door at about 10:30.
He was last seen running behind the Plean Tavern, but the majority of the cash was recovered after he dropped it.
The suspect was wearing an orange high-visibility vest over a grey hoodie, and had a blue scarf covering his face.
He was about 6ft tall and of slim build.
No staff or customers were injured in the raid, but police believe the man had a weapon in his hand at the time.
Insp Donna Bryans said: "This was a brazen theft from a community post office.
"We are treating this very seriously and currently have high-visibility patrols in the area to engage with the public."