Soldier to be buried as three-year legal case dropped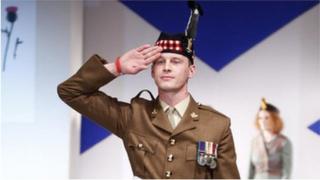 A three-year family legal battle over the final resting place of a Black Watch soldier has ended after his mother dropped her appeal.
Linda McComiskie wanted to bury her son Pte Mark Connolly in the family lair in east Wemyss in Fife following his death in 2011.
However, after a court case a sheriff ruled that his wife Stacey should be allowed to bury him in Forfar.
Mrs McComiksie lodged an appeal, but has now dropped her challenge.
Pte Connolly, who was wounded in a Taliban bomb blast while serving in Afghanistan, died aged 24 after being punched in a bar fight while stationed in Germany in May 2011.
His body has been in a morgue in London ever since, as his wife and his mother, the executor of his estate, disputed where he should be buried.
The family fall-out went as far as Forfar Sheriff Court, where a sheriff ruled in June that Mrs Connolly should have the final say over his resting place.
Mrs McComiskie vowed to appeal the following month, but has now dropped the case due to a lack of funding.