Carjacker had 'over-riding desire to leave Crieff'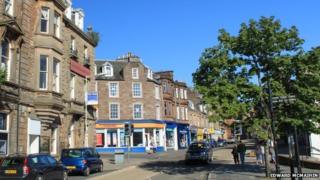 A man who staged a series of knife-point carjackings just to get out of Crieff has been jailed for 32 months.
Gordon Dewar said he carried out the offences because he disliked the Perthshire town and wanted to go to London.
The 24-year-old attempted to steal a milk delivery van, a car and a van early on the morning of 26 July.
He attacked two police officers before being overpowered with CS gas spray.
In what Sheriff Michael Fletcher described as "an extraordinary series of incidents", Dewar admitted first pulling a knife on a milkman and demanding his keys.
After being unable to get the delivery vehicle started, he approached the two occupants of another van and repeated the stunt at about 06:00.
However, he was again unable to move the vehicle more than a few feet before stalling it.
The police were called in after Dewar then attempted to hijack another motorist in the same fashion, and he led them on a chase before being cornered at the back of St Dominic's Primary School.
When the officers tried to incapacitate him with CS gas, Dewar shouted "do you think that stuff will make me curl up and cry?" before lunging forward with the knife. He was eventually overpowered.
'Odd behaviour'
At Perth Sheriff Court, Dewar's solicitor Cheryl McKnight explained that he had been living with his mother in Crieff, but the pair had a "difficult relationship".
She said: "He had previously resided with his father in London and his position was that things were better for him away from Crieff.
"He explained that he was trying to take vehicles and get out of Crieff.
"In fact he said to one of his victims, 'There's nothing for me in Crieff'.
"It's slightly odd behaviour and indicative of the substances he was under the influences of."
Dewar admitted assaulting the drivers of the three vehicles and robbing them of car keys, as well as attacking two police officers and resisting arrest.
Sheriff Fletcher jailed him for 32 months, and imposed 12 months of supervision after his release.
He said: "This was an extraordinary series of incidents. It was extremely worrying for those people who came across you with a knife.
"The social work reports indicate that you pose a danger to the public and these offences identify exactly that."