Five banned from Stirling streets in council crackdown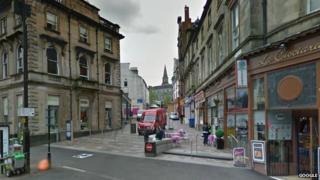 Five people have been banned from Stirling city centre streets after a joint police and council crackdown on anti-social behaviour.
Residents and traders raised concerns about the Friars Street area during the festive period last year.
Police Scotland upped patrols, and the council sought Anti-Social Behaviour Orders against five offenders.
They have been barred from Friars Street, Maxwell Place, Murray Place and Barnton Street.
The group have also been banned from possessing alcohol or being drunk in any public place, or annoying or harassing anyone in public.
'Firm stance'
Council leader Johanna Boyd said the authority would do "everything in its power" to crack down on misbehaviour.
"Anti-social behaviour is one of the blights on our communities and for too long Friars Street has been targeted.
"It makes life unpleasant for you and I out on the streets, but worse, it makes life dangerous for the police officers who have to respond to it.
"On Stirling Council we've worked closely with Police Scotland to assemble the evidence necessary to serve these orders and it's great to see all of that hard work helping to make our streets a safer place for everybody."
Police Scotland area commander Ch Insp Paul Rollo added that the force would take a "firm stance against the continued perpetrators of anti-social behaviour".