Serial Tayside rapist jailed for 20 years over decades of abuse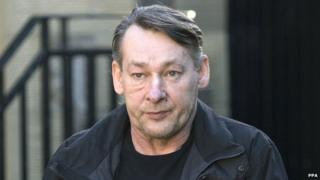 A serial rapist convicted of abusing a string of women across Tayside over three decades has been jailed for 20 years.
Allan Johnstone was convicted of 26 charges, including the rape of six women in the Dundee and Forfar area between 1983 and 2004.
The 50-year-old was convicted of abducting and assaulting women and also of kicking a young boy on the body.
Lord Bannatyne told Johnstone his was one of the worst cases he had heard.
Describing Johnstone's crimes as "a grave picture of physical and sexual violence", Lord Bannatyne told him: "You are a very significant danger to women."
A jury at Perth Sheriff Court earlier heard how Johnstone, of Brechin, beat one victim with a poker for taking too long to make a bacon sandwich, and attacked another because there was not enough sugar in his tea.
He told one woman: "I have always wanted to know how it feels to hear a woman squeal when she dies."
Prosecutor Shanti Maguire said victims had suffered "systemic trauma" at the hands of Johnstone, who "seemed to get off on violence".
She said he would often dump his victims out into the street either naked or semi-clad after raping them.
Tortured pets
The jury was also told that Johnstone had tortured pets, including strangling a hamster, hurling a spaniel against a television set and trying to flush a cat down the toilet.
Gordon Jackson QC, defending, said Johnstone "totally does not accept" what he was convicted of, saying: "As far as he is concerned, there is not a word of accuracy or truth about this."
As well as the 20-year sentence handed down at the High Court in Glasgow, he will be supervised for a further 10 years on release, and was placed on the sex offenders register indefinitely.
Speaking after the sentencing, Andy Shanks, procurator fiscal for the High Court for the north of Scotland, said: "Allan Johnstone was convicted of a catalogue of serious, violent and sexual offences after the jury accepted the evidence of witnesses who described how they suffered at his hands over a 20-year period.
"Where victims of sexual crimes, whenever they were committed, come forward and report them they will be treated with professionalism and sensitivity by the police and our expert prosecutors and we will do all in our power to deliver justice."
Det Ch Insp Sam McCluskey, of Police Scotland's Domestic Abuse Task Force, said: "As can be seen, Allan Johnstone is a particularly dangerous individual.
"I would like to thank these women for the courage and strength they have shown in coming forward and, in doing so, helping ensure that Johnstone has been brought to justice."