Lorry driver cleared over death of Bonnybridge woman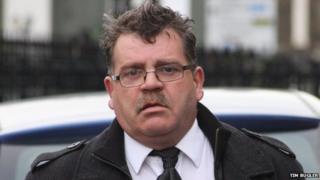 A lorry driver who ran over an 88-year-old woman has been cleared of causing her death by careless driving.
Stephen Hendry said he never saw Agnes Brzezina when she was crushed under his 7.5 tonne lorry in Bonnybridge in 2013.
The charge against the 56-year-old army veteran, who drove aid convoys in Bosnia and later got an MBE for services to the elderly, was found not proven following a trial in Stirling.
He said he was relieved by the verdict, but felt "so sorry for that wee woman".
The jury heard that Mrs Brzezina had initially waited on the pavement outside the WH Tyres depot on Wellpark Terrace as the lorry manoeuvred, on 26 September.
However, the 4ft 6in tall pensioner, who walked with a stick, was hard of hearing and had poor sight in one eye, set off in front of the vehicle a split second before Mr Hendry put it into forward gear.
An accident investigator told the court that she would only have been visible from the cab for a second before the collision, and said that Mr Hendry would not have had time to react even if he had seen her.
Mr Hendry had earlier told the court that Mrs Brzezina must have been in his blind spot.
The 88-year-old was crushed under the vehicle's wheels, and had to have both of her legs amputated in emergency surgery. She never regained consciousness, and died of her wounds in hospital eight days later.
A jury took 43 minutes to return a not proven verdict to the single charge of causing death by careless driving against Mr Hendry, of Port Glasgow.
Following the verdict, he said: "I just feel so sorry for that poor wee woman. It was a horrible thing to have happened."