Family bus scheme launched at Polmont youth prison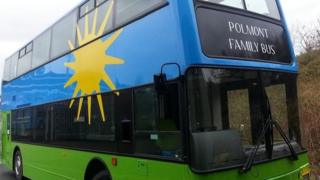 A new "family bus" to encourage children to visit family and friends behind bars at Polmont has been launched by the Church of Scotland.
The number of children visiting the young offenders institution near Falkirk has fallen by 20% since 2012.
Statistics suggest prisoners who are able to maintain good family bonds are far less likely to reoffend.
The interior and exterior of the renovated double-decker bus was designed by Polmont inmates.
The Church of Scotland is lead partner in the National Prison Visitor Centres Steering Group, and their support workers at Polmont drove forward the bus project.
The 16-year-old former rental vehicle has been customised to include a kitchen, toilet and baby changing area, with a wide-screen television and internet access for relatives.
Blackpool Design Company refurbished the bus and donated bean bags and games for visiting children.
'Emotional upset'
Experts claim that prisoners who maintain their family bonds while incarcerated are almost six times less likely to re-offend.
Marie Cairns. manager of the family visitor centre at HMP Polmont, said visiting a relative in prison could be a frightening experience for children in particular.
She said: "The aim of the family hub and bus is to support families as they support their young family member in Polmont.
"We see first-hand the emotional upset which is caused to parents and family members when a young person is incarcerated.
"Families have to travel from all over Scotland to visit. They are often using public transport and bringing young children.
"We try and offer a warm welcome and provide a hand of friendship which will hopefully make their visit a little less stressful."
Juvenile visitors
The number of young people aged 17 and under who visit prisons in Scotland has remained steady over the past three years, at about 50,000 visitors per year.
However, the number of juveniles visiting HMP Polmont has decreased by 20%, from 4,351 in 2012 to 3,481 in 2014.
2012
2013
2014*
Establishment
Adult
Juvenile
Adult
Juvenile
Adult
Juvenile
Aberdeen
12050
2073
10532
1778
237
34
Barlinnie
65581
10596
59667
9810
59559
10226
Cornton Vale
7588
1196
6141
1306
6915
1652
Dumfries
6211
1200
5332
991
5814
917
Edinburgh
37495
6455
39969
7111
37186
6799
Glenochil
23754
3811
24094
3598
23209
3426
Grampian
-
-
-
-
9927
1681
Greenock
10105
2147
10303
1784
9209
1527
Inverness
6618
873
6668
1214
5959
1099
Low Moss
31959
7418
41158
9552
40360
8855
Open Estate
2285
479
1670
353
1632
278
Perth
22379
4834
23823
4573
24113
5965
Peterhead
2847
483
2886
516
-
-
Polmont
36697
4351
30358
3698
30652
3481
Shotts
17870
4134
19510
4366
18943
4288
* Data for 2014 runs from 1 January to 9 December