Memorial to missionary Mary Slessor unveiled in Dundee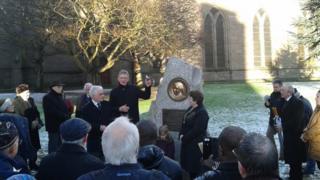 A memorial commemorating Scots missionary Mary Slessor has been unveiled in Dundee on the 100th anniversary of her death.
The Mary Slessor Foundation commissioned the city centre memorial with help from a number of city groups.
The stone carries a bronze plaque detailing the life and work of the former jute weaver.
Mary Slessor was born in Aberdeen and raised in Dundee before becoming a noted missionary in Nigeria.
She was revered by the local populations for improving or even saving the lives of many, including hundreds of twins who were often abandoned or killed as part of local customs.