Dundee head stamp attacker jailed for five years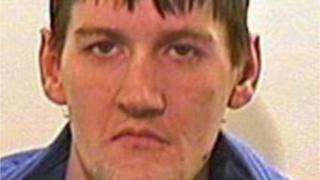 A man has been jailed for five years over an assault in which he stamped on his victim's head with both feet.
Steven Batchelor was on licence for another violent assault at the time of his attack on Alexander McGregor in Dundee's Irvine's Square in September.
A sheriff told the 34-year-old his claim he was acting in self-defence was "absolutely ludicrous".
Dundee Sheriff Court also heard Batchelor had "an atrocious record, particularly with regards to violence".
The jury was shown CCTV footage of Mr McGregor trying to walk away as Batchelor repeatedly blocked his path in the courtyard at Irvine's Square.
The footage showed Batchelor striking his 40-year-old victim, knocking him to the ground before stamping on his head with both feet, knocking him out cold.
Batchelor, a prisoner at Perth prison, was found guilty by a majority verdict of assaulting Mr McGregor by repeatedly punching him on the head, knocking him to the ground and repeatedly punching and kicking him on the head and body and stamping on his head, rendering him unconscious to his severe injury on 19 September.
'Atrocious record'
Sheriff Tom Hughes jailed Batchelor for five years, and told him: "I have been told about your previous convictions and it is fair to say you have an atrocious record, particularly with regards to violence.
"I am also aware you presented a defence of self-defence. That defence was absolutely ludicrous and had no prospect of success.
"You should have known you would have had one third off your sentence if you had been decent enough to face up to the consequences of your actions at the first stage."
Batchelor was out on licence at the time of the attack, having been jailed for 40 months in 2012 for his part in an assault on Alexander McLennan outside the city's Cutty Sark pub.
Mr McLennan died, and Batchelor, John Cassidy and Ross Ramsay were all initially charged with murder. Cassidy later admitted culpable homicide, while Batchelor and Ramsay admitted assault charges.