Bid to save historic almshouse Cowane's Hospital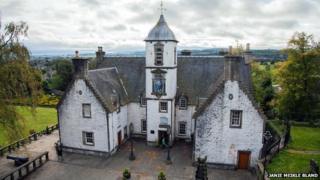 A bid has been launched to raise £3m to save a historic Stirling almshouse.
Cowane's Hospital, which dates back to the 17th century, has fallen into disrepair and needs major work including a new roof.
The Cowane's Hospital Maintenance Trust has applied to the Heritage Lottery Fund for £2m to go towards repairing the building and establishing it as a major visitor attraction.
The project has won the backing of Stirling councillors and 15 MSPs.
The building is named for John Cowane, who left a large sum of money to set up an almshouse for merchants who had fallen on hard times when he died in 1633.
For centuries it was the headquarters of Cowane's Trust, one of Scotland's oldest functioning charities, which exists to help a variety of vulnerable groups.
However, the charity has had to move out as the building, in Stirling's Old Town, is no longer fit for purpose.
'Helping hand'
A statue of Cowane mounted on the outside of the building is reputed to come to life and dance around the courtyard at Hogmanay.
Summing up the building's present state of decay, the statue's hand has fallen off, and Stirling Council leader Johanna Boyd said it was time to give the building "a helping hand".
She said: "Cowane's has been supporting people in Stirling for around 400 years - and the time has come when John Cowane needs a helping hand.
"This is exactly the sort of initiative Stirling and Scotland need right now. It will help build our reputation as a great tourism destination and bring tremendous benefits to the community."
The maintenance trust want to revive the building with restored historic rooms and kitchens, an exhibition about the hospital, Scottish trade and charity, costumed guides and family activities and community heritage projects.
They also want to return the gardens and bowling green at the hospital to their 18th century splendour.
A motion put forward in the Scottish Parliament by Labour MSP Richard Simpson congratulating the maintenance trust on their work was signed by 15 members.
Dr Simpson said: "This is a fantastic project for Stirling and Scotland. Cowane's Hospital tells the story of the making of modern Scotland and played a hugely important role in the development of Stirling.
"As Cowane's is near to the castle, and right beside the Kirk of the Holy Rude, it could help in regenerating the Old Town area by attracting more visitors and encouraging them to spend longer exploring everything that Stirling has to offer."