Inspectors praise Big Noise Raploch orchestra project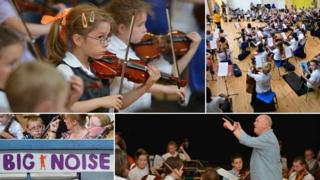 Scotland's Big Noise orchestra has been praised for high attendance and "exceptional achievement" in its first government inspection.
Education Scotland carried out the review of the group, run by Sistema Scotland, which aims to engage youngsters in Raploch, Stirling, by forming an orchestra.
Inspectors praised the high levels of attendance and commitment from pupils.
They said the project's "innovative" practices should be shared more widely.
The orchestra project was launched in 2008, inspired by Venezuela's El Sistema free music tuition scheme.
Education Scotland inspector Patricia Watson praised Big Noise and its impact on Raploch, noting that children, young people and families were increasingly confident and ambitious thanks to the project.
'Innovative practice'
In her report, she said: "A significant number of children and young people achieve exceptionally well through the Big Noise programme in Raploch.
"The majority of children and young people living in the community now participate in the after-school programme and as a result are engaged in positive activities outside of school and during the holiday periods.
"During our visit, we identified musicianship being delivered in the primary classes as innovative practice which we would like to explore further.
"We shall work with big Noise and Stirling Council to record the innovative practice and share it more widely."
Sistema Scotland chief executive Nicola Killean said she "very much welcomed" the report.
She said: "Our most obvious triumphs may be musical but we are here to equip the children with resilience and confidence to succeed across all areas of their lives.
"It is not as easy to show that side of things as it is to put on a stunning musical performance.
"This report illustrates that the investment made in children's futures goes beyond providing a good musical experience to equip the children with transferable life skills."