Passengers freed from wreckage of Stirling bus crash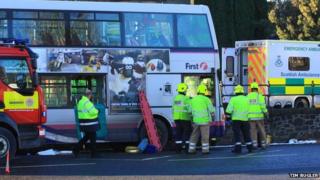 Firefighters had to free passengers after a crash between two buses in Stirling.
The double-decker vehicles collided on Melville Terrace at about 12:30.
Emergency services including police, the fire service and ambulance crews were called to the scene, and the road was briefly closed due to a fuel spillage.
No-one was seriously hurt in the crash, although several people were taken to hospital with minor injuries.
One of the vehicles was a service bus carrying several passengers, two of whom had to be freed through a window by firefighters, while the other was a school bus which was not carrying any passengers.
A spokesman for First Bluebird said: "We can confirm one of our double-decker vehicles was involved in an accident while stationary and collecting passengers in Stirling this afternoon.
"Emergency services attended to support our passengers and we are doing everything we can to support police with their inquiries."