Commonwealth Games guard caught with knife on first day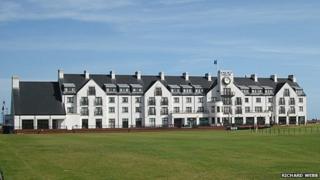 A Commonwealth Games security guard was caught carrying a knife when he arrived for his first shift.
Jordan Perkins arrived at the Carnoustie Golf Hotel on 21 July to act as security for the teams of shooters involved in events at Barry Buddon.
Police found a credit card-shaped fold-out blade in the 21-year-old's backpack during a compulsory x-ray screening.
Perkins lost his job, and was sentenced to 180 hours of unpaid work.
Forfar Sheriff Court heard that Perkins was submitted to a search at the front door of the hotel, which housed staff and athletes during the 2014 Commonwealth Games, after travelling up from his home in Tredegar, Wales.
During an x-ray scan, a fold-out knife with a 2.5in (6.35cm) blade was found in his backpack.
Depute fiscal Joanne Smith told the court: "The accused freely stated that he had removed the knife from somebody in Wales.
"He said he did not know he had the knife in his possession and would not have travelled with it."
Defence solicitor Jennifer Strachan said her client had removed the item from a youth while working at a carnival in Wales, placing it in a wallet he kept for contraband items before mistakenly bringing it with him to Scotland.
She said: "It was stupidity rather than anything malicious. He has lost his job in the security industry as a result of this."
Sheriff Gregor Murray said Perkins could "just avoid" a jail term due to the fact he was a young first offender.