Man guilty over Forfar pensioner fatal hit and run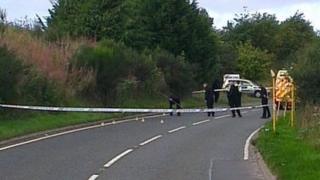 A hit and run driver who mowed down and killed an 89-year-old man has admitted causing death by dangerous driving.
Paul Mowatt took a handful of pills shortly before running down Kenneth Robertson, who was out on an evening stroll in Forfar, in August 2013.
The 34-year-old left the scene, but returned shortly afterwards and was heard saying "I have hit somebody".
Mr Robertson was badly injured and died in hospital two weeks later.
Mowatt was traced, leading to his appearance at the High Court in Glasgow.
The court heard that Mowatt had picked up his friend Shona Laird and her young child in Forfar on 30 August,2013, despite her seeing him smoke what she believed to be a cannabis joint before they got in the car.
As he drove, he then swallowed a number of what appeared to be blue Valium pills, and was described as looking "dopey".
Miss Laird saw Mr Robertson walking towards them on the B9113 Forfar to Montrose road, and then heard several thumps on her side of the car.
Erratic driving
She told Mowatt that she thought they had hit someone, to which he replied: "I think it was a post."
Prosecutor David Nicolson said Mowatt turned back to the scene of the collision, and saw people rushing to help the stricken pensioner. He was heard to swear and say "I have hit somebody" before moving off again.
A couple later called police after being "extremely alarmed" by Mowatt's erratic driving as he swerved around on the A90 road to Dundee.
Mr Robertson was meanwhile rushed to hospital with significant leg fractures as well as injuries to his neck and ribs.
He died of a large stroke on 22 September, just short of his 90th birthday.
Officers tracked down Mowatt, who told them he initially thought he had hit a deer.
Jonathan Crowe, defending, told the court his client had "lost everything" as a result of a serious motorcycle crash 10 years ago, and had "turned to drugs for solace and to self-medicate".
Sentence was deferred until 4 March at the High Court in Aberdeen, and Mowatt was remanded in custody.