Probe as Stirling football team 'black up' on night out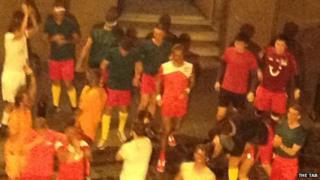 An investigation is under way after members of a university football team "blacked up" for a night out.
Stirling University launched the probe after players from Stirling Uni FC held a night out on Thursday themed on the African Cup of Nations, which is ongoing in Equatorial Guinea.
About 30 players were seen wearing football kits and black faces, drawing criticism from other students.
A spokesman said the university had a "zero-tolerance approach to racism".
A tweet on the Stirling Uni FC Twitter profile, which was later deleted, read: "African Cup of Nations social tonight for some of the boys...we all know SUFC do the best night outs."
One witness, Jim MacIvor, told student newspaper The Tab: "I saw 30 to 40 blacked-up footballers having a drink.
"They were just socialising, normal stuff. They were being quite boisterous - they were quite drunk - and some of them were taking their tops off and stuff like that."
'Disciplinary action'
Stirling University FC competes in the Lowland Football League, and has a number of black players.
The university and students' union issued a joint statement on the matter, which read: "The university and students' union are aware of incidents involving a number of students on the night of Thursday, 5 February.
"The university has immediately launched an investigation.
"The university and the students' union have a zero-tolerance approach to racism, and will respond robustly to any behaviour that does not meet with our values and expectations.
"We are disappointed that the actions of a few are tarnishing the reputation of the University of Stirling, and we wish to reassure students that a full investigation is under way and disciplinary action will be taken against any student found to have engaged in racist behaviour."