Falkirk man charged with decapitating Wellington statue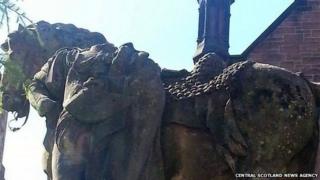 A man is to appear in court charged with decapitating a statue of the Duke of Wellington.
Liam McEwan is alleged to have "maliciously seized and pulled off the head" of the monument on Falkirk's Newmarket Street on 5 July 2014.
The 26-year-old was not present when his case called at Falkirk Sheriff Court. It was continued until 9 March.
The memorial to Wellington has been a landmark in the town for 160 years.
The statue of the "Iron Duke", who defeated Napoleon at Waterloo in 1815, was commissioned by the Burghers of Lanark but on completion they refused to accept it and it was bought by Falkirk instead for £70.
It originally stood by The Steeple in Falkirk High street but was moved to Newmarket Street in 1905.