Perth teacher rapist has sentence reduced on appeal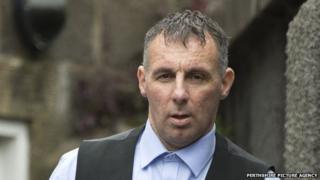 A man jailed for abducting and repeatedly raping a teacher in Perth has had his sentence reduced on appeal.
Barry Dalton was jailed for 10 years and six months for the "brutal and sustained attack" carried out in Perth, along with a series of other violent attacks on women.
However, a mistake was made during directions to the jury during the trial in June of last year.
Dalton's sentence was reduced by two years, to eight years and six months.
Dalton, 40, was convicted by a jury at the High Court in Perth of abducting the woman and detaining her at an address in Perth's Dunkeld Road on 17 and 18 November, 2013.
He kicked, punched, bit and scalped her, compressed her throat and repeatedly raped her.
'Material misdirection'
During the trial, the victim told the jury she was too scared to try and escape when Dalton went downstairs briefly because she was afraid he would kill her.
Dalton was also convicted of assaulting a man days before the rape, and attacking several other women.
However, Dalton's advocate Ronnie Renucci told the appeal hearing in Edinburgh that trial judge Lord Glennie had made a mistake during his legal directions to the jury.
Lord Carloway agreed that a "material misdirection" had occurred, and ruled that Dalton's sentence should be cut by two years.
A full written judgement giving detailed reasons for the reduced sentence will be issued in due course.