Dundee, Angus and Perth and Kinross councils set budgets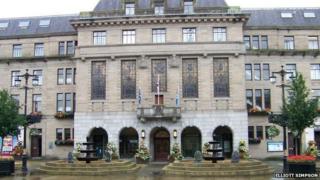 Tayside's councils have set their budgets for the coming year, with each maintaining the council tax freeze.
Dundee City, Angus and Perth and Kinross councils kept tax at the same level for the ninth year running.
There were protests outside the budget setting meeting in Dundee, as the council made £3.3m of cuts to its £350m revenue budget.
Cuts were also made in Angus, but Perth and Kinross Council was able to make new investments in its budget.
There were protests outside Dundee's city chambers prior to the meeting, but the council's SNP administration group was able to use its majority to press through its budget following a lengthy debate.
Cuts were made to street cleaning, two bowling greens were closed and a family support service was shut down. The administration also rejected an amendment by the lone Conservative councillor to cut £44,000 from the authority's food, drink and entertainment budget as a direct alternative to cutting a principal teacher's post from a young mums' unit.
Finance spokesman councillor Willie Sawers said: "Within the savings proposed for council services we have made absolutely every effort we can to protect the quality of the services we provide.
"Despite the challenging financial circumstances, the council has included over £12m in the 2015/16 revenue budget to fund developments in our services."
Angus council meanwhile agreed £5.6m of savings, for a total revenue budget of £242m.
Leaders warned that there are more cuts ahead, with £6.8m expected for 2016/17.
'Tough decisions'
However, Perth and Kinross Council was able to agree investments of almost £10m in front-line services in its budget, despite also maintaining the council tax freeze.
"Tough decisions" had seen £56m cut from the council's budget over the last five years, leaving the authority in a "healthy financial position" for 2015/16.
The authority agreed £1m for local road repairs, cash for school attainment and investment in improving rural broadband access.
Council leader councillor Ian Miller said the authority was in a "fortunate" position, but noted there could still be "significant challenges in the future".
He said: "This council's commitment to making tough decisions and transforming services over a number of years means that we are not facing some of the major service reductions or sudden changes that other local authorities are now having to consider.
"Over the past few years the council has consistently improved its performance while reducing costs and making substantial savings.
"The benefits of this approach are clear for local residents as young people, communities and the local economy are all set to benefit from the investments agreed as part of the 2015/16 budget."