Serial Perth rapist who attacked pregnant women jailed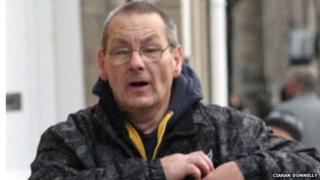 A serial rapist who attacked three women, two of whom were pregnant, has been jailed for 12 years.
David McLeish, of Perth, carried out a catalogue of sexual and physical abuse over a 13-year period, raping three women and beating several children.
The 49-year-old's victims were aged between four and 43. A judge told him he had "blighted seven childhoods".
McLeish maintained his innocence but was found guilty in a High Court trial.
His campaign of abuse took place at various addresses in Perthshire between September 1996 and December 2009.
One girl was repeatedly raped between the ages of 9 and 16, on one occasion while pregnant.
McLeish also raped two other women, one of whom was pregnant, and battered children with belts and slippers.
'Childhoods blighted'
McLeish was convicted of four charges of rape, two of lewd and libidinous conduct, eight charges of physical assault and two of sexual assault after his victims came forward.
Judge John Beckett told him he had "shown no remorse" for his "violent and abusive conduct", adding: "Seven childhoods were blighted by what you did."
He said: "You pursued a campaign of sexual abuse and violence for 13 years. You used guile, manipulation, threats and bullying."
McLeish was sentenced to 12 years in prison and six further years of supervision following release.