'Body' spotted in water off Arbroath was a Christmas tree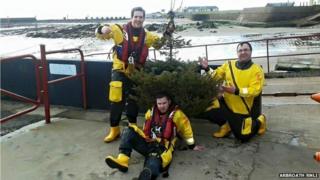 Lifeboat crews were called out to reports of a body in the water at Arbroath cliffs - only to find a discarded Christmas tree.
The inshore lifeboat crew from Arbroath was dispatched to the scene at 11:00 on Sunday after a walker raised the alarm in the Needle's E'e area of the town.
However, the RNLI crew quickly identified the object as "a small tree" despite difficult sea conditions.
They brought the tree back to shore to be disposed of safely.
Alex Smith, lifeboat operations manager at Arbroath, said: "A member of the public reported, with the best of intentions, that they had spotted what they believed to be a body in the sea.
"We launched our inshore lifeboat in difficult sea conditions when the request for assistance was received.
"The person who reported the sighting had remained on the cliffs and they were able to assist our crew in locating the object, which thankfully turned out to be no more than what appears to be a discarded Christmas tree."